Description
SHIPPING IS ALWAYS FREE!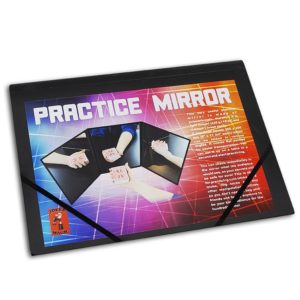 A practice mirror is a must-have for every close-up magician!
One of the best practice mirrors on the market- made of light-weight polycarbonate (15 oz) that will not easily break.
It has three panels (each 8 x 11 3/4″) which can be folded in various angles. It comes flat packed for easier transportation. You can set it up on a table in a second and start practicing.
By watching yourself perform in the mirror, you'll be able to see what the audience would see. Ideal for close-up magic of any kind!