Description
Fat Brothers 2 is out of stock everywhere- except here- making this bundle a MUST HAVE!
There are a limited number of these bundles available- GET YOURS NOW!
… PLUS SHIPPING IS ALWAYS FREE!
THE PRICE OF THIS BUNDLE IS OUT OF CONTROL! YOU WILL ABSOLUTELY NOT FIND THIS DEAL ANYWHERE ELSE!
3 Amazing Magicians + 4 DVD's= a collection of magic you should not be without!
This Bundle includes: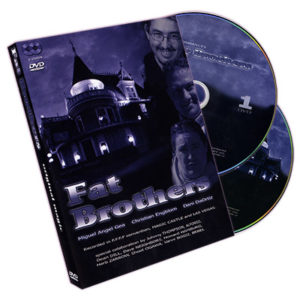 Three amazing magicians! Put them together on one DVD and… jackpot- PURE GOLD!
Disc One
Tricks
Eng-Blom Control
Near perfect circle
Take out coins
The trick without explanation
Coins through the Glass
Through the cartoon
The last match trick
Chaos in order
Hofzinser's problem
Mini oil and water
Oil over troubled water
Disc Two
Explanations of the tricks that appear in the first volume.
Disc One Running Time Approximately 45min
Disc Two Running Time Approximately 66min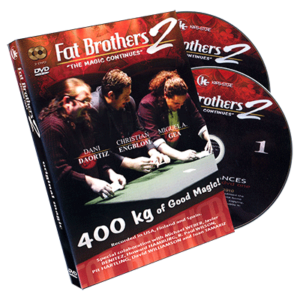 After two years of recording, from Spain, Finland and the U.S., is now available the second Fat Brothers DVD.
Dani Daortiz, Christian Engblom and Miguel Angel Gea venture into a new adventure, with new locations: Magic Castle, where they perform and explain 12 surprising tricks:
Entertainment of a Coin
The Reel Thing
A Cheeky Triumph
Colors in Order
Felt Trio
Double Haunted Deck
The Flexible Coin
Through The Table
Open triumph
In the middle of the Cards
Quick triumph
NxA Trick
Two Discs and a lot of magic!