Description
50% OFF!!!  SERIOUSLY!!  It's like buying the Masterclass 5 DVD Set (normally sells for $75) and getting the Favorites DVD Set AND Card College E-Book for FREE!!
This is a very exclusive bundle with a limited supply!  Only available until March 31st!  Get yours now!
This Bundle Includes…
#1 - Card Magic Masterclass 5 DVD Set
Introducing THE best way to build a card magic foundation. Twenty years ago, Roberto Giobbi, card magic's most distinguished author, wrote 
Card College
, a series of books now considered THE Bibles on card magic. This video series is the next step.
In five volumes covering five major areas of card magic (Controls, Switches, Palms, Forces, False Shuffles), Giobbi teaches his favorite entries from Card College as well as new techniques not described in those volumes. If you have Card College and are studying it, this is the PERFECT video companion. If you've never read Card College, this series is like having Mr. Giobbi in your living room giving you private instruction.
You won't just learn all the wonderful and important sleights in card magic, you'll also learn the fine points, finesses, and subtleties of each one, so that you carry out the techniques the way connoisseurs do: with invisible precision.
We release a small amount of original content each year, but Card Magic Masterclass will be an enduring resource – a legacy, perhaps – to magicians for years to come. Thanks to Roberto Giobbi, magicians have an at-home academy to master ALL the important techniques in card magic. It's time to take your card magic seriously. It's time to start your Card Magic Masterclass.
5 DVDs plus slipcase. Running time: 8 hours 11 minutes approximately.
Contents:
Disc One – Controls
THE SEVEN STEPS TO CARD CONTROL
SINGLE CARD CONTROLS
Break Control, The McMillen Control, Post-Peek Overhand Shuffle, Control, Double Undercut Control, Parallel Shift, Goldin Pass, Accidental Pass, Mathematical Controls
MULTIPLE CARD CONTROLS
Lateral Insertion Multiple Shift, Bluff Multiple Shift, Vernon Multiple Shift, Envoy
Disc Two – Switches
THE GLIDE
TOP CHANGES
Conradi-Elliot Top Change, Deal Top Change, Hofzinser Top Change, Nth Top Card Change, Jinx Switch
MULTIPLE LIFTS AND TURNOVERS
Cliff Green Double Turnover, Vernon-Kaps Double Turnover, Hand-Spread Double Turnover, Center Double Lift, Replacements
FALSE DEALS
Vernon Second Deal
HAND SPREAD SWITCHES
The Card-Spread Switch, The Fred Kaps Switch
VARIOUS SWITCHES
The Mexican Turnover, Simplified Curry Turnover Change, Envelope Switch
Disc Three – False Shuffles and Cuts
FALSE CUTS
False Swing Cuts, Jennings Cut, Flip Flap Cut, Actus lnteruptus, False Cut, Triple Undercut, Educational Cut, Jay Ose Triple False Cut, Filipino Freddie Hop, Combination Cut
FALSE OVERHAND SHUFFLES
Stock Controls, Over-and-Under False Shuffle, Hunter-Vernon False Shuffle, Frank Lane False Shuffle, Dolahuso Shuffle, Optical Shuffle, Greek Shuffle
FALSE RIFFLE SHUFFLES
Stock Shuffles, In-the-Hands False Shuffle, Zarrow Shuffle, Push Through Shuffle
THE FARO SHUFFLE
THE HINDU SHUFFLE
THE CHARLIER SHUFFLE
Disc Four – Palms
TOP PALMS
Topping the Deck, One-Hand Palm, Professor Lowey Palm
BOTTOM PALMS
Due Tempi Palm, Double Undercut Palm, End-Over-End Bottom Palm, Gamblers Cop, Vernon-Erdnase Palm, Bottom Palm Replacements
SIDE STEALS
Side Steal, Marlo Clip Steal, Covers for the Side Steal, Side Slip, Diagonal Palm Shift
VARIOUS
Vernon Palm to Palm Transfer, Palm Transfers in Pocket and Jacket, A Useful Aquitment
Disc Five – Forces
NON-TECHNICAL FORCES
Criss-Cross Force Plus, The Kaps Force, Two-Card Force
CUT FORCES
Direct Cut Force, Packet Force, Riffle Force
TABLE SPREAD FORCES
Trojan Horse Force, Charlie Miller Table- Spread Force, Classic Laydown-Force, Toss Force, Ribbon Spread Force, Outs
FORCES WITH PROPS
Under the Hank Force, McMillen Knife Force, Credit Card Force
DRIBBLE FORCES
Classic Dribble Force, Vernon Scallop Short Force, Vernon Transfer Move Force, Bossi's Milking the Force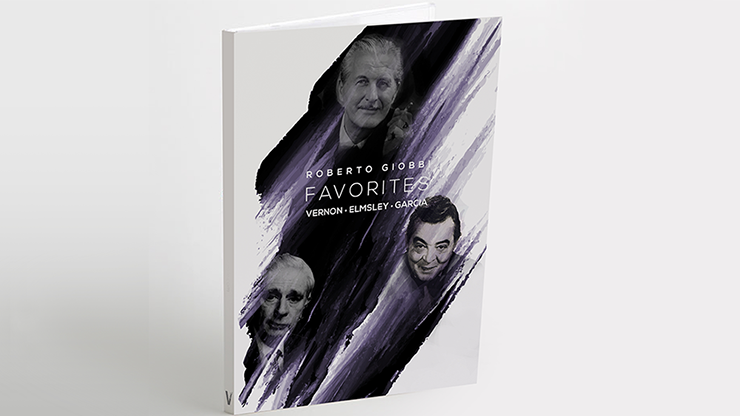 What happens when the foremost scholar on card magic is asked about his favorite magicians? You get 
Favorites
, a collection of magic that assembles separate, serious studies on three of the greatest card magicians of all time: Alex Elmsley, Frank Garcia, and Dai Vernon.
In each case, Mr. Giobbi provides background information on the person, and frames the influence of the tricks in a modern perspective. Then you'll see a performance of three pieces by Elmsley, Garcia, and Vernon, followed by step-by-step instruction on each piece.
Giobbi has selected three of his favorite tricks from each of his "favorites." Some are well-known, while others will likely be new to you.
You will learn:
From Vernon – Emotional Reaction, Four of a Kind, and Slow Motion Aces
From Elmsley – All Backs, Double Swap, and 1002nd Aces
From Garcia – A Lady Up My Sleeve, Ace Faroleros, and A Surprise Package
This set of DVD's is unlike any other we have released before. This is your opportunity to spend three hours in the company of Roberto Giobbi and learn some of the finest card magic conceivable.
It will surely be one of your Favorites!
Running Time: 3 hours 25 minutes
#3 - Card College #1 E-Book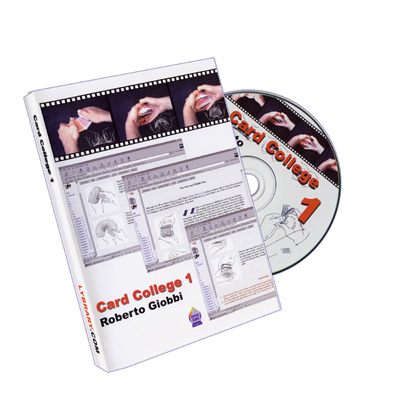 This e-book is to my knowledge the first of its kind not just for magic literature but in general. The inclusion of several dozens of video clips extends and completes the description of moves and techniques and allows the student a deeper and quicker learning. Altogether 89 video clips are present. These show Giobbi hands without any comments, since one can find all comments already in the text. It would anyway be futile to try to capture all written information as a monologue in video. Video clips have to be understood as an addition and not as standalone. Each form of expression is used in its most efficient way. With the written word one can provide a lot of searchable details and present them in a clear and precise manner. Illustrations capture important moments and positions. And video clips convey the timing and motion of a technique. Video clips also allow one to acquire a basic understanding and overview in a few seconds. I am convinced that you will be delighted by this e-book. It will help you reach new levels in your card magic and reach them faster.
Card College is a modern classic. It is without a doubt the most important work on sleight of hand with cards. This is the first volume in a series of five. The specialty of this electronic book is its 89 video clips, which show how Giobbi executes each and every technique described. This e-book has also been nominated as a finalist in the prestigious EPPIE 2004 e-book award in the category non-fiction/how-to. This is the first magic book to be nominated for a non-magic book price. Please note that there are significant differences between the latest printed edition of "Card College 1" and this e-book, beside the video clips. This e-book was based on the German edition "Grosse Kartenschule 1" which has a somewhat different selection of chapters than the English one from Hermetic Press.
One could say it is the author's cut: Chapter 9, The Glimpse in this e-book appears in Volume 2 of The Hermetic Press Series. On the other hand chapters 13, 14, 15 and 16 from The Hermetic Press book are missing in this e-book. They will be available in the electronic "Card College 2". Beside the chapter differences between the paper edition and this e-book, Giobbi added about 20 new pages to "Card College 1" since the latest printing. There have been numerous additions particularly to The Final Notes and Check Points sections.
Chapter 1 has a new section on the card case; you might think that opening a card case is a trivial matter. Not so, says Roberto, who dissects this process into its smallest part and gives you plenty of good reasons why you should know all these details. A new routine "Further than that…"was added to Chapter 5 "Force Techniques Part 1". And finally the "Bibliographic Notes" have been updated and extended. So even if you have already "Card College 1" the book, there are plenty of reasons why you want to have this e-book.