Description
SHIPPING IS ALWAYS FREE!
A MUST HAVE!
THE PRICE OF THIS BUNDLE IS ABSOLUTELY RIDICULOUS!!
Two CLASSIC magic books, packed with GREAT magic- and they're out of stock everywhere… except here!
There is a very limited stock of these. Get yours NOW while they're available!
This Bundle includes: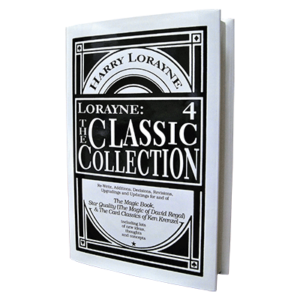 Out of stock everywhere… EXCEPT HERE!
AND SHIPPING IS ALWAYS FREE!
There's a reason for the success of any Harry Lorayne book. In the magic world, Harry Lorayne is considered to be the best writer/teacher of, entertainer with, playing cards.
Mr. Lorayne's exalted reputation began with Close-Up Card Magic (1962), which became an instant classic. That reputation grew in leaps and bounds with each succeeding book. What you have in your hands right now is his re-write, his additions, revisions, updating/upgrading of more of his early classic books/routines – The Magic Book, Star Quality (The Magic of David Regal) & The Card Classics of Ken Krenzel. Including lots of new ideas, thoughts and concepts.
Pages: 406 – 9.5″ x 6.5″ – Hardcover with dust jacket – Black and white illustrations and photos.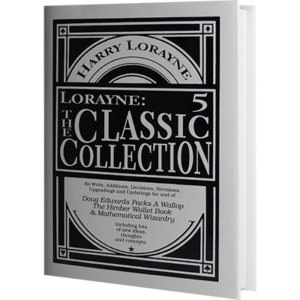 Out of stock everywhere… EXCEPT HERE!
AND SHIPPING IS ALWAYS FREE!
NO, THERE WON'T/CAN'T BE ANOTHER VOLUME AFTER…
Lorayne: The Classic Collection 5
by Harry Lorayne
BECAUSE THERE ARE NO MORE ORIGIANL LORAYNE BOOKS TO RE-WRITE, THIS IS IT!
Additions, Revisions, Upgrading, and Updating for and of the Doug Edwards Packs a Wallop, The Himber Wallet Book, Mathematical Wizardry, Plus some NEW IDEAS & concepts.
Every item in DEPAW is practical, do able, useful, and "Packs a Wallop!"
If you want "miracle" choices of wallet effects you'll find over 50 of them in The Himber Wallet Book…
and
Mathematical Wizardry will show you how to make your audiences "marvel at your Amazing Number Tricks, Lightening Calculations, and Magical Knowledge! They'll think you're a genius!"