Description
THIS IS A KILLER PRICE!!  There is a limited number of these bundles.  Only available until March 31st!  Get yours NOW!
This Bundle includes 2 DVD sets, each set has 2 DVD's.  That's 4 DVD's and hours of incredible new magic to learn!
And, there's more- scroll down to the bottom of this page to add John Carey's At the Table Live Lecture for just $3.00 (normally sells for $9.95)
Bundle Includes…
#1 - Essential Carey (2 DVD Set)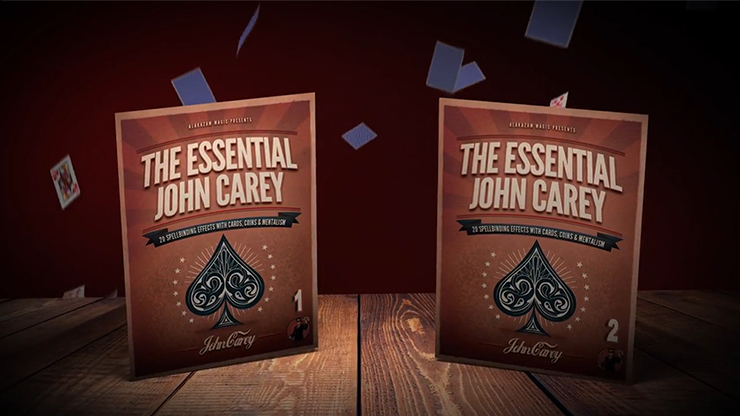 Alakazam Magic is thrilled to announce the release of a brand new, 2-DVD boxed set by the Alakazam Academy's "Core Tutor", John Carey.
In recent years, John has become internationally acclaimed for his streamlined and practical approach to card and close-up magic. He has travelled all over the U.K., Europe and America, lecturing on his style of magic.
If you want powerful and commercial magic that isn't going to bust your fingers, then look no further! Carey has cherry-picked 20 fabulous items with cards, coins and even some mentalism for your entertainment and edification. There are no pipe dreams here. Every effect has been tailored to entertain and fool people, and we just know you will love the thinking here.
There is so much variety in this collection, including Stealth Assembly, which John Bannon called a Neo Classic. This is the cleanest un-gaffed Four Ace Assembly you've ever seen!
Carey's approach to the classic Chicago Opener will enlighten you as to how he thinks differently in working on a well-known plot.
If you like coin magic, there's a beautiful rendition of the classic Traveller's Plot, but with four signed coins.
These are just three of the twenty items performed and taught in exacting detail, and we just know you are going to love this collection!
Disc 1
Chicago Style
Ambitious All the Way
CAAN CAAN
Closed All Day
Gemini SMS
Sandwich Trilogy
We Have a Winner
Crystal Thought Redux
They Call Me the Seeker
Pocket Money
Disc 2
Homage to Rioboo
Princess in My Pocket
Stealth
Isolation
Little Vernon
Think Again
Ambitious Interchange
Hooked on You
Bullets on the Table
Multiple Bluff Control
#2 - Prime Time Carey 2 DVD Set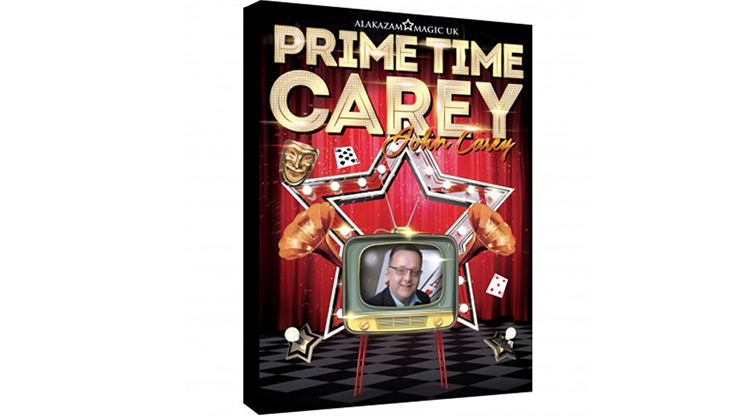 John Carey is back!
After the success of the essential John Carey DVDs last year, Alakazam Magic is delighted to present to you Prime Time Carey!
In this two-volume collection, Carey continues on from the previous project with his renowned, minimalistic and streamlined approach to commercial card magic. Seventeen fantastic effects are presented for your enjoyment. All practical, doable and strong!
There's a great deal of variety on these DVDs and we just know that you are going to love watching, learning and then performing these gems.
In addition, Peter Nardi joins John for a fun interview where they discuss his thought process and style of card magic.
Take a look at what's included on this great 2-disc DVD set:
Disc 1
1. Y.A.F.T!
2. Subtle Prefiguration
3. It's a match
4. Mental Fusion
5. Impossible Do as I Do
6. Intuitive Reaction
7. Aces on Demand
8. Final Fusion
Disc 2
1. Propheticaan
2. When Maven Met Leech
3. Mysterious Ambition
4. Homage to Jennings
5. Vernon, Skinner, Marlo
6. The Trick That Always Works!
7. Slipstream Assembly
8. Aces On the Up and Up
Plus an interview with Peter Nardi.