Description
SHIPPING IS ALWAYS FREE!
The Card College book series is a MUST-HAVE for any serious card magician.  This is much more than a set of books that teach magic tricks.  This is a complete, comprehensive course in card magic!
Regardless of your skill level, the contents of these books will provide everything you need- all the essential tools- to develop, hone, and advance your craft!  Giobbi doesn't just teach the trick.  He teaches philosophy, tips, and the wisdom that comes with years of experience as a card professional.  You'll constantly refer back to this collection.
We'll also throw in the hard to find Card College #1 E-Book.  As you learn from the 5-Volume Book Set, you'll be able to follow along with dozens of video clips found in this E-Book.  Watch Giobbi as he shows the moves and effects he explains in the books!  This is such a powerful way to learn!
Not only that, you'll even get a deck of official Card College Playing Cards- your choice of color!
This bundle includes: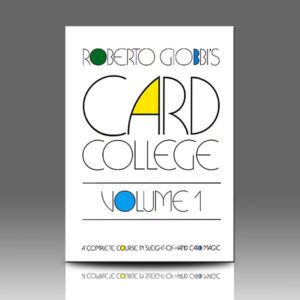 Card College is THE definitive series for anyone interested in learning card magic!  Here you'll learn all the essential skills, sleights, and tools necessary to deliver powerful card magic!  You will constantly refer to this book as your magic progresses.  Card College V1 is, without a doubt, THE book that every magician must own!  Want to be an amazing card magician?  It starts right here- order your copy now!
The first volume in this landmark course sets the groundwork for the rest of the series, beginning with lessons on the proper ways to hold, deal and shuffle the cards, then progressing through many basic sleights and techniques, including perhaps the most thorough and revealing discussion of the classic force ever offered. Along with the classics of card magic, Mr. Giobbi includes original ideas and refinements from his own repertoire, guaranteeing every reader, no matter how experienced, fresh techniques and insights into the performance of professional caliber card magic! Some of the topics covered in Volume One include:
The Tools of Card Magic
Fundamental Techniques
The Overhand Shuffle
The Riffle Shuffle
False Cuts
Transfer Cuts
Card Controls
Card Forces
The Glide
The Double Lift
The Hindu Shuffle
Flourishes
The Spread Cull
The Top Change
The Key Card
Auxiliary Sleights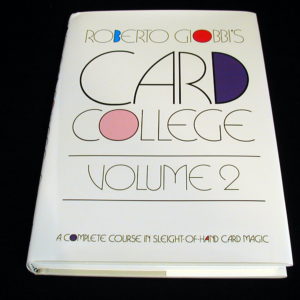 Picking up where Volume One left off, Volume Two teaches such classic and invaluable sleights as the palm, the pass, the glimpse, false counts and much more. Volume Two concludes with a chapter on psychology, misdirection and presentation that's among the best treatments ever done on these important subjects. Throughout, Mr. Giobbi includes original ideas and refinements, guaranteeing every reader, no matter how experienced, fresh techniques and insights. Some of the topics covered in Volume Two include:
The Glimpse
Card Reverses
The Crimp
Palming
False Cuts
False Counts
The Pass
The Overhand Shuffle
Flourishes
The Double Turnover
Misdirection
Psychology
Routining
Presentation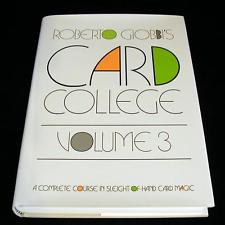 Volume Three contains instruction on such invaluable sleights as the push-off double turnover, one-handed top palm, the Ascanio spread, gambler's cop, the Vernon addition, false displays and riffle shuffles, the convincing control, the Olram subtlety, and much more-including many powerful card tricks and routines. Mr. Giobbi includes original ideas and refinements, guaranteeing every reader fresh techniques and insights. Some of the topics covered in Volume Three include:
The Biddle Steal
The K.M. Move
Breaks, Steps & Injogs
Advanced Palming
Card Controls
The Zarrow Shuffle
Advanced Double Lifts
Multiple Shifts
The Pull-Through Shuffle
The Faro Shuffle
Color Changes
The Side Steal
The Diagonal Palm Shift
False Counts and Displays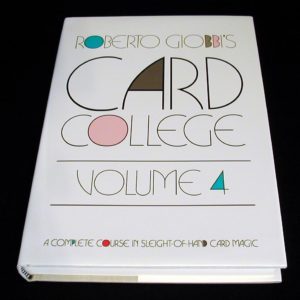 Learn such invaluable sleights as the invisible pass, the turnover and spread passes, the Christ twist, second and bottom deals, the Jinx change, the Green angle separation, the cut force, the dribble force, and much more-including many tricks and routines by Mr. Giobbi himself. Some of the topics covered in Volume Four include:
Forcing Techniques
Card & Packet Reversals
Advanced Passes
Culling & Stacking
Half Passes
Tilt
Sandwich Techniques
More Flourishes
Lapping
Card & Packet Switches
Estimation
Deck Switches
False Deals
Structural Theory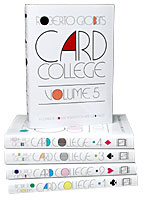 It's finally here! In the fifth volume of the acclaimed Card College series, Roberto Giobbi has prepared a graduation party! In previous volumes the reader has been given a remarkable collection of tools for creating astonishing card magic. In the same vein, Volume 5 begins with a meaty chapter of new techniques and strategies, which include methods for covertly arranging stacks during performance, obtaining a duplicate of a spectator's signature with his knowledge, and secretly conveying cards to and from the deck-powerful tools indeed.
But then Volume 5 diverges from the established Card College formula. Judging that the reader now has more than a sufficient number of tools in his grasp, Mr. Giobbi provides eight chapters filled with tricks and routines that illustrate how various techniques are applied to create world-class card magic. These effects, however, are not mere constructions meant for teaching. Most have been drawn from Roberto Giobbi's professional repertoire-and because of this, even the classics of card magic are given a fresh gleam as Giobbi adds refinements won from years of performing experience.
His choice of material is impeccable, featuring not only original effects and handlings of his own, but tricks and routines by world-masters as well. One finds such gems as Fred Kaps' presentation for The Signed Card in Box, along with Giobbi's cunning treatment of this modern classic, Henry Christ's fabulous Ace routine and a superb handling of a forgotten masterpiece by Charlie Miller. And everything is taught with the clarity and attention to detail for which the Card College series has become known. Open this book and welcome to the party-prepare to graduate! Some of the topics covered in Volume Five include:
Making Secret Setups
False Shuffles
Obtaining Duplicate Signatures
Quick Tricks
Openers and Routines with the Aces
Favorite Effects
Gambling Demonstrations
Mental Mysteries
All in all, Volume Five features 34 professional-caliber routines that have astounded audiences the world over.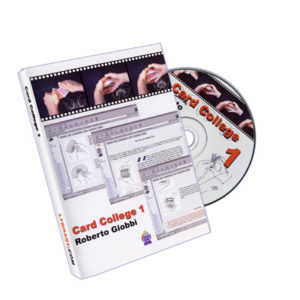 This e-book is to my knowledge the first of its kind not just for magic literature but in general. The inclusion of several dozens of video clips extends and completes the description of moves and techniques and allows the student a deeper and quicker learning. Altogether 89 video clips are present. These show Giobbi hands without any comments, since one can find all comments already in the text. It would anyway be futile to try to capture all written information as a monologue in video. Video clips have to be understood as an addition and not as standalone. Each form of expression is used in its most efficient way. With the written word one can provide a lot of searchable details and present them in a clear and precise manner. Illustrations capture important moments and positions. And video clips convey the timing and motion of a technique. Video clips also allow one to acquire a basic understanding and overview in a few seconds. I am convinced that you will be delighted by this e-book. It will help you reach new levels in your card magic and reach them faster.
Card College is a modern classic. It is without a doubt the most important work on sleight of hand with cards. This is the first volume in a series of five. The specialty of this electronic book is its 89 video clips, which show how Giobbi executes each and every technique described. This e-book has also been nominated as a finalist in the prestigious EPPIE 2004 e-book award in the category non-fiction/how-to. This is the first magic book to be nominated for a non-magic book price. Please note that there are significant differences between the latest printed edition of "Card College 1" and this e-book, beside the video clips. This e-book was based on the German edition "Grosse Kartenschule 1" which has a somewhat different selection of chapters than the English one from Hermetic Press.
One could say it is the author's cut: Chapter 9, The Glimpse in this e-book appears in Volume 2 of The Hermetic Press Series. On the other hand chapters 13, 14, 15 and 16 from The Hermetic Press book are missing in this e-book. They will be available in the electronic "Card College 2". Beside the chapter differences between the paper edition and this e-book, Giobbi added about 20 new pages to "Card College 1" since the latest printing. There have been numerous additions particularly to The Final Notes and Check Points sections.
Chapter 1 has a new section on the card case; you might think that opening a card case is a trivial matter. Not so, says Roberto, who dissects this process into its smallest part and gives you plenty of good reasons why you should know all these details. A new routine "Further than that…"was added to Chapter 5 "Force Techniques Part 1". And finally the "Bibliographic Notes" have been updated and extended. So even if you have already "Card College 1" the book, there are plenty of reasons why you want to have this e-book.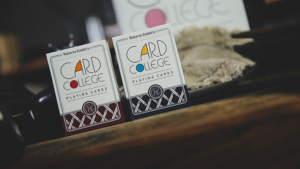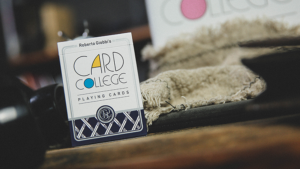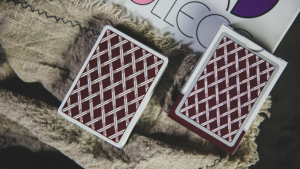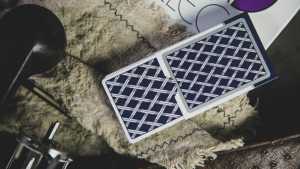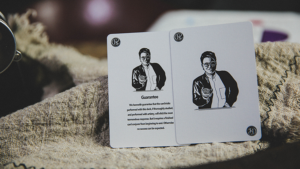 Card College Playing Cards are manufactured and marketed with the full approval and support of Roberto Giobbi
Roberto Giobbi is the author of Card College, a five-volume work considered worldwide as the standard text on sleight-of-hand card magic. He is fluent in six major languages and performs internationally for private and corporate functions. In the magic community he is highly acclaimed as performer, lecturer and author of best-selling books.
He is member of the Escuela Magica de Madrid, magic's only Think Tank. Several international awards in magic round off his profile. More importantly, he's a gentleman and all-around nice guy.
Card College, Roberto Giobbi's acclaimed course on sleight-of-hand card magic, has received the highest praise from amateur and professional magicians alike, throughout the world. In 2020 the five-volume set, containing over 1'500 richly illustrated pages, has been voted the most important and influential magic book in history by the members of the Magischer Zirkel von Deutschland, Europe's largest magic organization.
Printed by USPCC, on Bicycle premium stock.
Classic & clean design, perfect for professional card magic and card playing.
Slim white borders.
The back design reflects the drawings in the Card College books.
Two specially printed cards (double-backer red/red or blue/blue and red/blue)
Standard USPCC face design and indices, special Ace of Spades and Joker.
Matches trick cards from the standard Bicycle trick card deck
Two-color options: red / blue.
Highest quality at a low price.