Description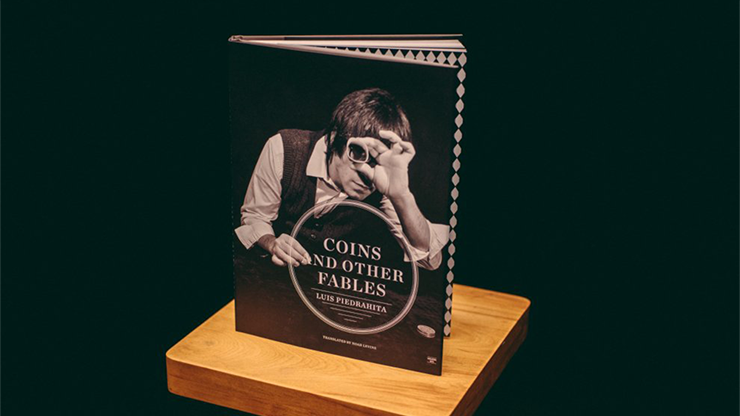 Possibly the most important book on coin magic since David Roth's Expert Coin Magic!
From one of Spain's most famous magicians comes elegant yet surreal mysteries for the very first time in English.
Coins and Other Fables by Luis Piedrahita is far more than a book of coin magic. Through the lens of his masterful routines, one can learn how Piedrahita approaches the construction of magic. Explained within the book is not just the technique, but also the exciting thinking behind it. Luis Piedrahita cleverly creates the most stunning effects possible by combining many methods using sleight of hand, gaffs, and psychology. Coins and Other Fables is the intersection of memorable magic, sleight of hand and inspiring creativity.
Some of the contents:
THE HUDDLE PALM
THE TIMOTEO TURNOVER
THE WHIP FLIP
THE PINKY TOSS
THE TRICKLINKY
COPPER AND SILVER WITH THE HUDDLE PALM AND THE PINKY TOSS
FOUR COIN PRODUCTION
RAMSAY'S CYLINDER
COINS THROUGH THE TABLE
FOUR COINS AND A SPONGE
COIN IN ASPIRIN
SIGNED COINS THAT FLY FROM ONE HAND TO THE OTHER
WILD COINS: THE HOMUNCULUS EFFECT
COINS THROUGH THE HANDKERCHIEF
COINS AND BUBBLE WRAP
THE MAGIC MOMENT – Jorge BlassIncluded within the pages of this groundbreaking work are five sleights with coins and ten routines that Piedrahita has worked, rehearsed, and performed in person and on television for millions. The routines and techniques are described in great detail, expertly translated by Noah Levine.The book is beautifully printed on archival paper especially made to reproduce photographs. The signatures are sewn and there is a ribbon bookmark bound in. It's also bound to open flat for ease in study. The pages are fully varnished throughout with stunning black and white illustrative photography.

About Luis:

In his native Spain, Luis Piedrahita is a household name due to his regular appearances on Spain's most popular television show, El Hormiguero. While his magic is filled with offbeat thinking and creative approaches to classic plots, his skills are not limited to magic. Luis Piedrahita has also found success as a director, scriptwriter, and author. Piedrahita was recently awarded the Academy of Magical Arts Performing Fellowship.

What the experts are saying:

"Luis Piedrahita is one of the most brilliant minds in all of magic today."
– Juan Tamariz

"Luis Piedrahita is one of the world's great magical thinkers but his skills don't end there. My only issue with him is that he's revealing these great ideas and effects to the world and not just reserving them for me!"
– David Blaine

"His presentations are charming and original. He has developed new sleights and made improvements on old ones. And for magicians who are aware of the importance of knowing not just how an effect works, but why, the essays on magic theory alone are worth the price of the book."
– David Roth