Description
SAVE 20%
YOU WILL ONLY FIND THIS DEAL HERE!
…AND SHIPPING IS ALWAYS FREE!
This is a legendary bundle that belongs in every card magician's library!
Darwin Ortiz is a legend- one of the world's foremost sleight-of-hand experts with cards!  He's created some of the strongest card effects in modern magic.  Learn from a legend.
See details below…
Darwin Ortiz is unquestionably one of the top card men in the world today. In this book he offers you the chance to learn the routines that have earned him his living and his reputation, including all of the psychological insights, presentation angles and performing tips which could only have been gained from years of professional performance.
Contents:
Introduction (Paul Gertner)
Part One: Impromptu Miracles
Part Two: Presentational Showpieces
Part Three: Gambling Routines
Pages 187 – Hardbound with Dust Jacket
Lessons in Card Mastery Book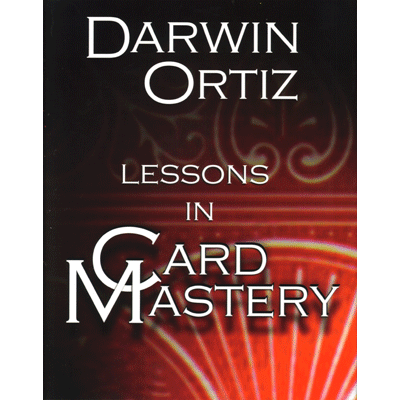 Among Darwin Ortiz' many fans, the only question is which of his card books is the best: Darwin Ortiz at the Card Table, Cardshark, or Scams & Fantasies with Cards. Now there is a new candidate: the aptly-named Lessons in Card Mastery.
This time the accent is on uncanny displays of card control. You'll display physical control by cutting to a selected card with just one finger, trapping two selections in a shuffled deck, displaying mastery at Texas hold'em, instantaneously producing an entire suit, making the deck sort itself into reds and blacks, and causing all fifty-two cards to rearrange into perfect suit and number sequence. You'll display mental control by diving cards under impossible conditions and memorizing a deck in a matter of seconds.
Again and again the cards obey your will like soldiers following the marching orders. These are effects that will convince any audience that you can do anything with a deck of cards.
Contents:
Hole-Card Play
Positively Fifth Street
Positively Fifth Street Redux
Grifter's Game
Best of the Best
Best of the Best 2
The Spectator's False Shuffle
Passing Through
Hard Target
Sudden Impact
Inner-End Crimp
Supercharged Nine-Card Location
One Shot, One Kill
Twelve the Hard Way
52 Pick-up
Fast Company
Fast and Furious
Bulletproof
Rouge et Noir
Limitless
Calculated Risk
Billion Dollar Brain
Doppelganger
Sweating Bullets
The Uninvited Guest
Fast and Loose
Card Sense
Double Tap
Case Card
Test Your Luck
New Darwin's Wild Card
Sorcerer's Apprentice