Description
SHIPPING IS ALWAYS FREE!
This bundle includes: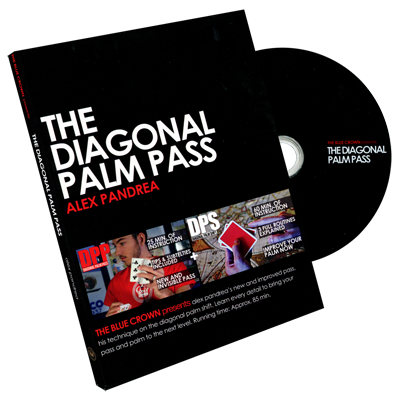 Alex Pandrea has been hailed as a modern master of the pass, providing valuable insight into one of magic's most popular utility moves with his Brick Pass and Turnover Pass videos.
The result of years of practice and refinement, the Diagonal Palm Pass is unlike any other. Instead of being performed at waist level, the DPP is performed higher up, ideal for when you're working in stand-up scenarios such as cocktail parties or table-hopping. The video speaks for itself in regards to the stealth results after mastering this beautiful new sleight.
You'll also learn Alex's tips and refinements for the Diagonal Palm Shift, considered to be one of the "holy grail" moves from The Expert at the Card Table. Imagine being able to silently and invisibly extract a card directly from the center of the pack. A true utility move, the DPS can be used for an immeasurable number of effects and routines.
Alex goes BEYOND the text and takes your DPS to the next level. In addition to teaching the core mechanics of the DPS, Alex also covers every nuance of finger placement, timing, frame of mind, and more. Equally as important as teaching what to do, Alex also teaches you what NOT to do – giving you common mistakes to avoid, putting you on the path to mastery that much faster. He also teaches 3 powerful effects that utilize the DPS. These are strong and practical, suitable for many different environments.
Detailed Teaching
Learn TWO versatile sleights
Multiple routines included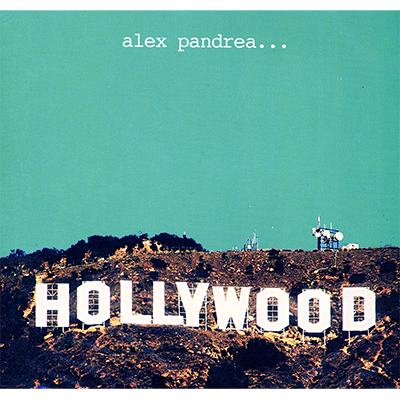 Join Alex Pandrea in Hollywood on a journey of card magic.
On this DVD Alex teaches 3 moves with cards; a switch, a color change, and a control. In addition to the sleights, Alex provides multiple routines with each move so you can add them to your working repertoire. Filmed on location in Los Angeles, this is visual, practical material for card magicians.
Monet – Alex takes the Paintbrush Change and injects it with steroids. This move lets you make a single card change multiple times! Many people believed that this was trick photography when they first saw it – then they saw it live and realized it uses nothing but pure and elegant sleight-of-hand. Learn the Paintbrush Change, Reverse Paintbrush, Single-to-Single, a Split Effect, and more! This is one of those moves that's really fun to practice and even more fun to perform!
AP Spread Control – Ed Marlo's Convincing Control got its name for a reason. While the original is indeed convincing, Alex has worked on this control for years to bring it to a whole new level of deception and sophistication. It can be used to control a card to the top or bottom of the deck – your choice! Alex covers 3 techniques, including a fantastic one-handed version!
T.O.P. – Influenced by the Turnover Pass, Alex's T.O.P. move allows you to control a card to the top or the bottom of the deck, and can also be used to force a card with minimal sleight of hand! This utility move can be applied to countless routines, but Alex teaches 3 full effects in complete detail that perfectly utilize the sleight.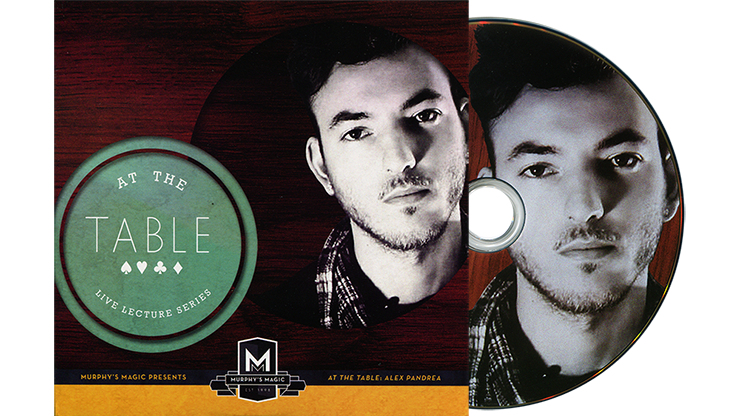 Alex Pandrea has surged to the cutting edge of sleight of hand magic. In a unique format, we'll explore the three facets of Alex's career. He began performing close-up at restaurants, where his material had to be quick, visual, and perfect for small groups. That evolved as Alex became immersed in the New York magic scene, where he expressed his sleight of hand and "move monkey" Zen. Then Alex's venue has shifted again to more formal performances useful in stand-up settings. In this lecture you will be able to explore EACH of these aspects of Alex's magic, in three sections of an exciting and jam-packed 2-hour lecture.
COMMERCIAL MAGIC:
Arson: A stunning and practical routine that combines the "Kiss" plot with "Chicago Opener." There's fire, a selected card, and lots of mystery.
SLEIGHTS AND CARD TRICKS:
EliminACE: A gorgeous transposition of a selected card and the Ace of Spades. Direct, surprising, and with a cool plot line.
Mystery Card: A deceptive version of the mystery card using T.O.P. – a turnover pass variation that both forces a card and hides its back.
Two Card Reset: "Dr. Daley's Last Trick" remixed with Paul Harris' "Reset."
BARS AND CLUBS:
Four Quarters Bill Switch: Magick Balay's bill switch taught with his permission. This is, perhaps, the greatest and fastest bill switch you will ever see, and Alex will explain it in great detail.
Ambitious Card Routine and Theory: This is a MASTERCLASS in how to construct a multi-phase routine. Alex has whittled down the routine to its bare essentials, and the results are beautiful. More importantly, we get to see the "move" that Alex is known for – his Pass.
PLUS:
Sugar Packet
Johnny's Travels
Spring Control
DPS
Palm to Palm Transfer
Second Deal
Two Card Transpo